Clinical Neurosciences Journals with highest H index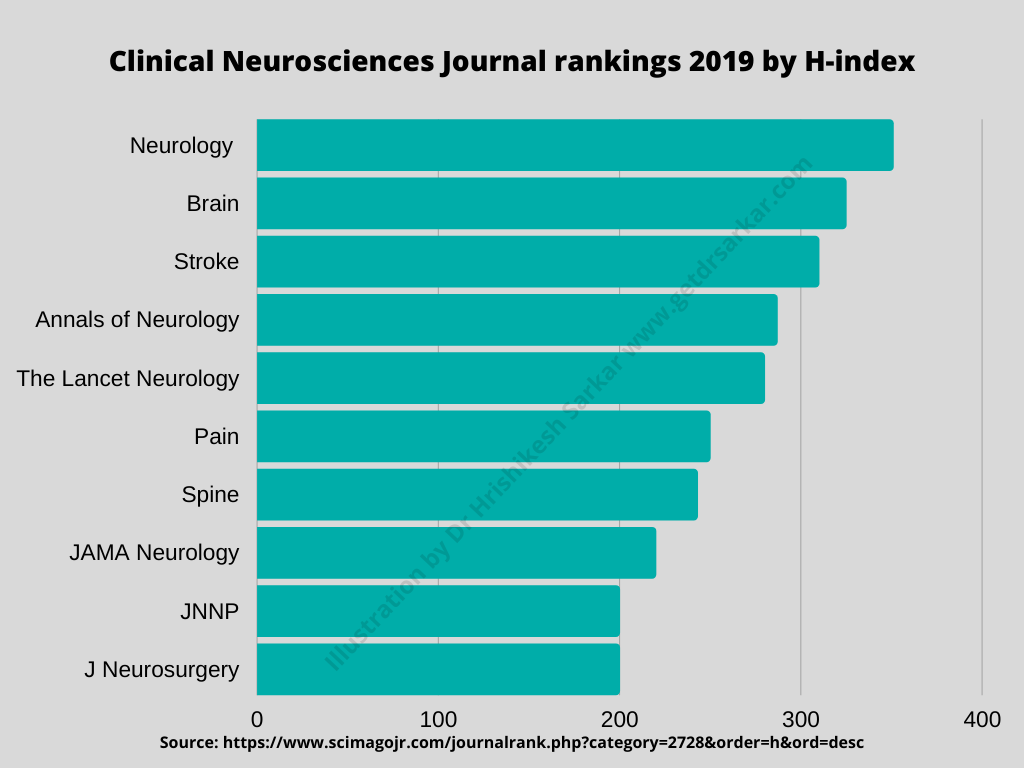 These are the top 10 journals in Clinical Neurosciences according to the H-index. Click HERE to see how H index for a Journal is calculated.
The H-index is a term for Hirsch index or Hirsch's number. The H-index is for Prof Jorge E. Hirsch in University of California who described this entity in 2005. H-index gives an estimate of the overall impact of the research work along with the productivity.
"Neurology" the "green journal" is the leader in the pack while Neurosurgeons like me would be more excited to see Spine, JNNP and JNS making the cut. However, I must say, even a small case report coming from a non descript Journal with no formidable impact factor has occasionally given me a clue or an answer which no large journals could provide. Till we device the most ideal parameter/s to "rank" a journal, we will have to deal with numbers such as impact factor, h-index etc and respect the rankings.
The technology that was used to collate the information - BeautifulSoup for webscrapping and Matlibplot module in Python.
Data Source: Scientific Journal Rankings
Created on:07/07/2020
Updated on:07/07/2020
World Brain Tumor day 2020 - Surgery for the Brain tumors need not be always a "bloody" affair!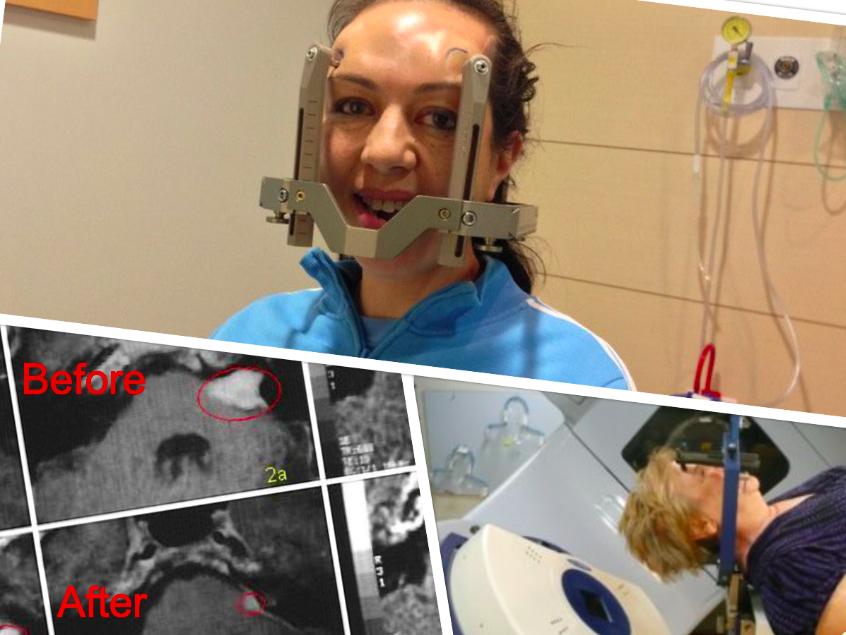 Brain tumors are linked with Brain Surgery and often, it is thought that, this process inherits, sick leave for many days, surgical trauma, pain, blood loss, dressing, infection etc. In some instances, the surgical approach can damage adjacent normal structure resulting in complications. However, for some selective brain tumors, there is another option that, negates most of the problems associated with "scalpel" based surgery. The alternative is Stereotactic Radiosurgery. During this procedure, the brain tumor is "hit" by highly focal radiation beam that is so selecwtive that it destroys only the tissue within the tumor and rest of the normal tissue is spared significantly. This highly selective "implosive" action is carefully orchestrated and executed by team of Neurosurgeons, Radiation Oncologists and Radiation Physicists. The procedure is such that the patient can get discharged the next day morning and resume normal activites at much shorter time compared to the conventional Brain Surgery. Click here to know more about the SRS facility at our hospital. KDAH RADIOSURGERY
Image Courtesy: Genesis cancer Care with permission
Created on:07/06/2020
Updated on:07/06/2020
Watch Live Telecast of SpaceX Manned Mission (From 00:00HRS, 31.05.2020) !! Click Below
Click HERE to CHAT LIVE!
Created on:12/05/2020
Updated on:12/05/2020
Happy International Nurses Day! 2020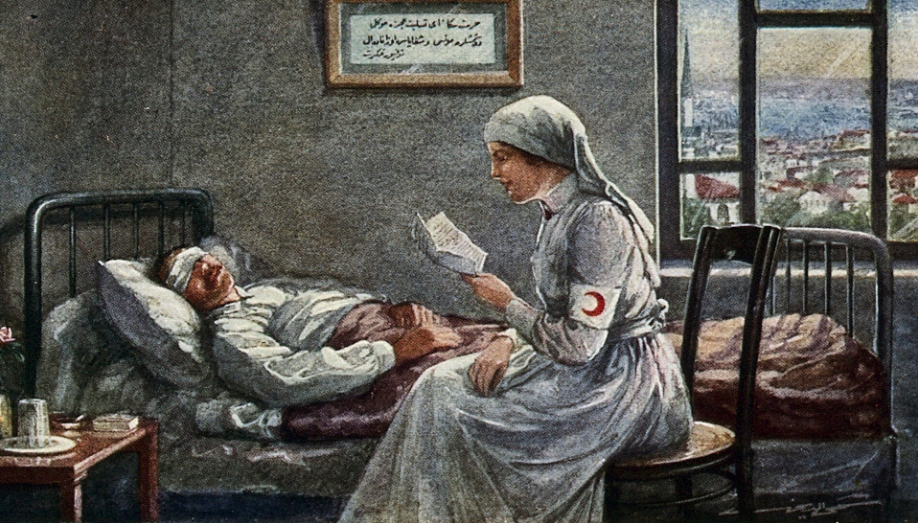 To all the nurses!
As a Kid …..Your calm demeanor made vaccination a "near" painless experience,
As Teenager with all the falls, injuries, dressings etc …. Your kindness put on a smile… minimizing all the related discomfort,
In Medical school..….Your professionalism and dedication was inspiring,
As an Intern…..After having failed to put an iv line multiple times, you said "Doctor, You ll get it …ok" and turned out to be "never looked back" moment,
As a resident….You shared your own "Dabba"… while we were overworked, sleep deprived , hungry, drained emotionally and physically,
As a consultant…… You continue to put in your best efforts day after day, patient after patient, so that, not even a single step of Surgery is faulted,
….The journey of life has been always associated with you'll. So big thanks and cheers for what you do with compassion, dedication, and kindness. God bless you all! Happy International Nurses Day!
Image: Nurse reading letter to patient whose eyes are bandaged.
Credit: Wellcome Library, London. Published: c.1930. Wellcome Images – images@wellcome.ac.uk – http://wellcomeimages.org/
Copyrighted work available under Creative Commons Attribution only licence CC BY 4.0. http://creativecommons.org/licenses/by/4.0/

Created on:12/05/2020
Updated on:12/05/2020
Covid times and Surgeon's Dilemma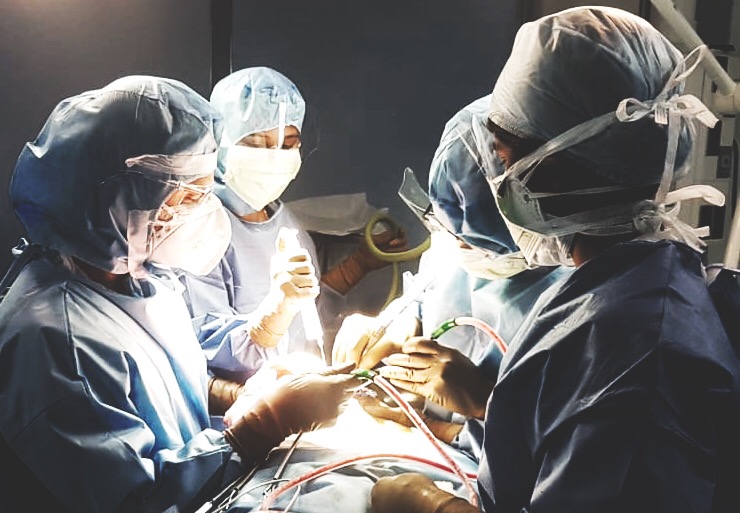 Mumbai has one of the highest cases of Covid in India and the numbers are rising. Like elsewhere, we have stopped doing elective surgeries, primarily, to prioritize resources and keeping them secured for appropriate re allocation and utilization later on when the disease peaks. Whether we will see a surge or not, only the time will tell. But, for a child with a brain tumor, or a young man with a head injury, time cannot wait. It means a difference of life and death for that person. We surgeons are still performing emergencies, sometimes, without even knowing Covid positive status as there is no time. However, what if, the condition is not salvageable for example a cancer with expected life span of not more than six months or a head injury, where the person is expected to be in vegetative / comatose for unknown period? In a "normal" scenario, and keeping in mind a few "outliers" who would do extremely well compared to the prognosis that was being offered, best possible care (surgery) is offered. And we do see outliers. However, in a challenging situation we are in, as a team leader, would one still go ahead, and put each member of your team which includes junior colleagues, anesthetists, nurses, techies, lab couriers, ward boys exposed to the risk of being infected and fall sick? But hey.. all of us have taken our pledge to try "best possible care" as well! Where is the line....??? Unfortunately, in an unprecedented situation like this, tough decisions are being made worldwide to minimize so called "collateral damage". However, despite all the deliberations, precautions there will be sufferings, on both sides. My heart goes to the patients, relatives and medical fraternity, who are struggling to bridge this gap. Hope it ends soon and this precarious, entangling situation gets over too. Until then questions/ uncertainties will have to be dealt on a daily basis. Stay safe! God bless all!
Created on:27/04/2020
Updated on:06/05/2020
Brain - The master controller!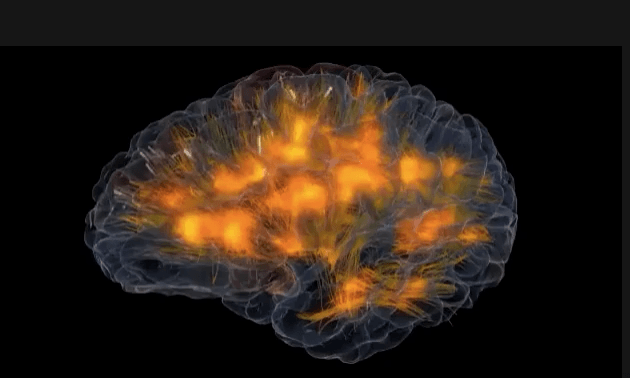 The Gigantic supercomputer - 3 millon hours of TV shows - 300 years of show time!!!!
The human brain has about one billion neurons(cells). More than 1,000 connections exist between each neurons, leading to a trillion superconduting junctions. These neurons orchestrate and coordinate their activites so that each one helps with several functions such as memories, at a time,. This humungously increases the brain's storage capacity to something closer to around 2.5 petabytes (or a million gigabytes). For comparison, if your brain worked like a digital video recorder in a television, 2.5 petabytes would be enough to hold three million hours of TV shows. You would have to leave the TV running continuously for more than 300 years to use up all that storage!!! The human brain is responsible for keeping your body running all day long. It not only helps people think and learn new things, but it also controls your movement and speech, too. The brain is part of the central nervous system and receives tons of information. Some more fascinating facts to follow.
Ouchhhhh...Pain??? Brain can't feel it!
We operate on Brain sometimes keeping patient awake!! The brain has layers of coverings and blood vessels that contain pain receptors, the brain itself has zero. When a person has a headache, for example, it's often thought of as pain stemming from the brain, but this is actually not the case. The muscles and skin surrounding the brain, however, can feel pain.
Our brain is super hungry!
Your brain might account for only about 3 percent of your body weight, but it receives about 30 percent of the blood being pumped by your heart. It takes the brain about 1/10,000th of a second to respond to something and generate an action.
Almost half of a child's energy goes to fuel his or her brain
In order for the brain to stay running at top-notch, it requires significant amounts of energy. And this is even more true for young children who are still learning, processing, and developing at a fast rate. Scientists at Northwestern University discovered recently that in the preschool years, when a child's brain development is faster, physical growth is slower, possibly to save more energy for the developing brain. Conversely, during puberty, when physical growth is faster, brain development is slower — which may come as no surprise to parents of teenagers!
References
https://www.scientificamerican.com/article/what-is-the-memory-capacity/
Created on:27/04/2020
Updated on:06/05/2020
Keyhole Brain Surgery - Reality and Myths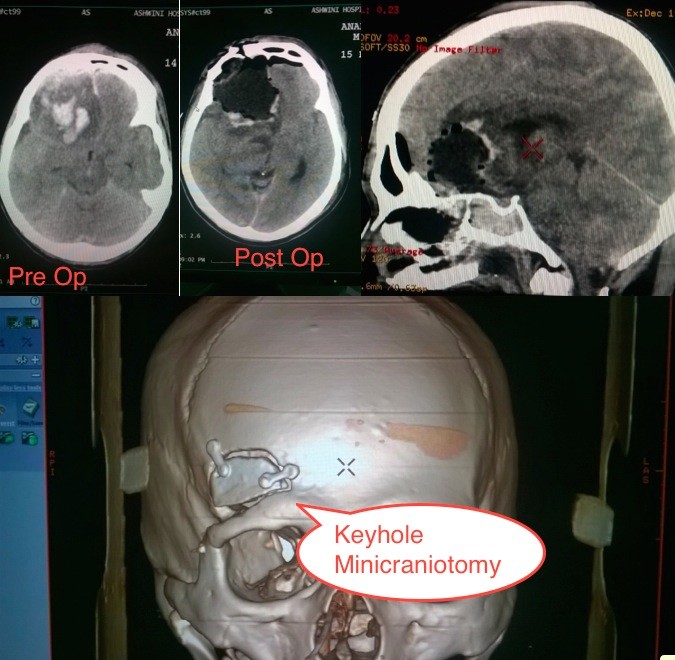 Advantages of Keyhole Neurosurgery:
- Less disruptive. Attacks the region of interest rather than normal structures.
- Shorter Incision and the wound size
- Less painful and requirement of analgesics
- No need for drainage tube in the post op period
- No need for large dressings or shaving of head
- Less blood loss
- Cosmetic benefits.

Disadvantages:
- Needs special training and associated learning curve for the surgeons
- In most cases needs special equipments, may increase the cost of surgery, however, if the duration of post operative stay is reduced, then this can compensate
Myths:
- This is not "one for all" solution. Minimally invasive surgery can be done in selective cases. Leave it to your surgeon to decide what is best for you.
- Keyhole surgeries are not complication free. Primary complication rates are more or less similar to conventional surgery, however secondary rates may be lower due to less tissue trauma to the normal structures.
- Eventual outcome rates are similar in both conventional and keyhole methods.
- Not every surgeon can do keyhole approach.

Take Home Message:
Minimally invasive keyhole approach is a better method in "selective" neurosurgical cases in "selected" hands.
Please note: The facts presented are based on cases operated during past ten years by a single surgeon. This is considered class 4 medical evidence. For more information and evidence please go through the following:
1. Book by my mentor Prof Dr Robert Reisch https://books.google.co.in/books?isbn=321169501X
2. Scientific article demonstrating clinical utility of keyhole approach authored by us and published in a leading Neurosurgical Journal.
Marcus HJ, Sarkar H, Mindermann T, Reisch R. Keyhole supracerebellar transtentorial transcollateral sulcus approach to the lateral ventricle. Neurosurgery. 2013 Dec;73(2 Suppl Operative) PubMed PMID: 23624413.

Created on:09/05/2020
Updated on:09/05/2020